Spotlight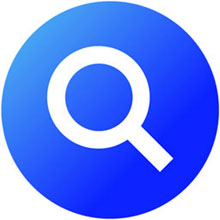 Spotlight is a search tool built into OS X version 10.4 and later.
How to Use
Click the blue magnifying glass in the upper-right corner of your window.
Search your computer by typing in search-criteria.
To access any file you found, simply click the filename to open it.
Tagging a document
Tagging a document can sometimes help Spotlight find your document a little easier, especially if the filename has no resemblance to the contents of the file.
To tag a document using OS X Tiger, please do the follwing:
Select a file.
While selected, press (Apple-I) or right-click the file and select Get Info, this will bring up the Info menu of the file.
At the very top, there will be a box labeled Spotlight Comments.
To tag it, type in keywords that will help Spotlight locate this file.
This can be used on any file, including .doc, .png, .jpg, .xls, etc.