Sharing between OS X and Windows XP
To connect to a computer with Mac OS X from a computer with Windows XP, follow these steps
1. On the Macintosh from the Finder, click on the apple in the top left corner and select "System Preferences."
2. In the "System Properties" window, select "Sharing."
3. The "Sharing" window will come up. Here you need to unlock the computer to make changes. Click on the lock in the bottom left corner of the window.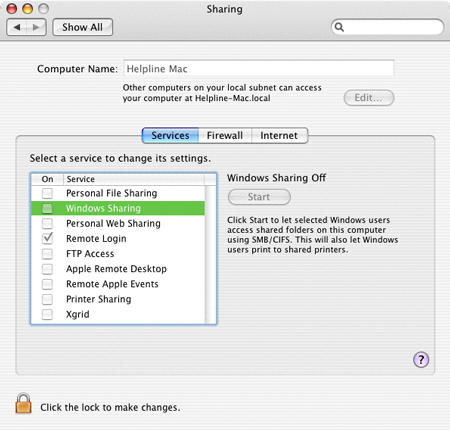 4. You will be prompted for a password. This can be any administrator username/password on the computer.
5. Now select "Windows File Sharing" from the window on the left and click "Start" directly to the right of it. The message above it should now read "Windows File Sharing On."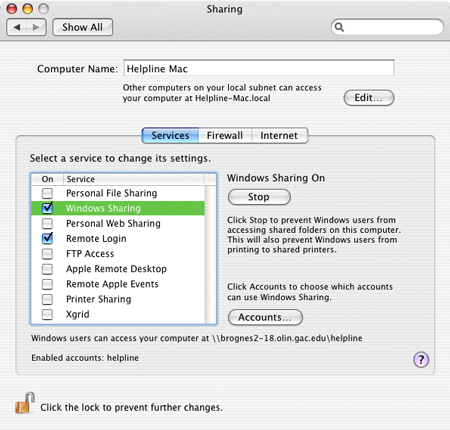 6. Click the "Accounts" button in the bottom portion of the screen.
7. In the new window which comes up, you must select the account for which you want to use file sharing. This will be the computer owner's account.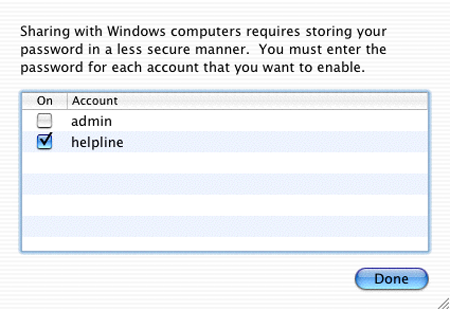 8: Click "Done" and re-lock the "System Preferences" window by clicking the lock in the bottom corner again.
9: To access your newly created share, note the address in the bottom portion of the "Sharing" window and use this to map the drive in Windows. For help mapping a drive, see Home_directory#Windows_XP.