Safe mode
Safe mode is a diagnostic mode used by computer operating systems to troubleshoot problems that cannot be fixed while running in normal mode. In safe mode, the operating system loads only the necessary (minimal) drivers and software so that other problems can be found and repaired.
Safe mode on a PC should be used when doing a full system virus scan using Windows Defender, MalwareBytes, or similar antivirus software, to ensure that the scan is most effective.
Safe mode is also useful for both Mac and PC if there is some type of hardware problem that causes the machine to not boot properly, or freeze during operation.
How to boot in safe mode - Windows
To boot to safe mode with a Microsoft Windows machine tap or hold the F8 key when the machine is starting up. This is during the screen that displays the computer maker. From there, you are sent to a menu that lists boot modes. The recommended safe mode configuration is with networking, as that allows for anti-virus programs to update before scanning and the user to search for help if necessary.
You can also boot to Safe Mode by using the msconfig utility.
Windows XP/Vista/7
Click on the Start button and click on Run (XP) or type in the search field (7). Type msconfig and hit the enter key.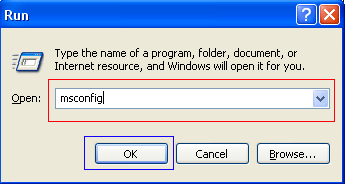 In Windows XP click on the BOOT.INI tab. In Vista/7 click on the Boot tab.
A confirmation box will show up. Click Restart to reboot the computer into safe mode.
After troubleshooting you will need to set msconfig back to the original configuration.
Windows 8
While turning the computer and it starts to load, hold the shift key while tapping F8.
Click the Troubleshoot icon.
Click Advanced Options.
Click Windows Startup options.
Click Restart.
Then click safe mode or safe mode with networking.
How to boot in safe mode - Macintosh
Booting in Safe Mode for the Macintosh is available in OS 10.2 or later. To boot in Safe Mode, hold the shift key as the Macintosh is booting up.
Contact us
Please contact the Technology Helpline at 507-933-6111, stop by the Technology Services department in Olin Hall or complete our contact form.