Nick Sonsteby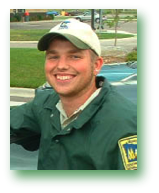 Nick Sonsteby is one of the four members that share the responsibility of managing the Technology Helpline. He is the User Services team lead for Technology Services.
Contact information
Personal information
In his free time, Nick enjoys:
Playing golf and racquetball
Smiling
Playing with Winston
Other Nick-related facts:
Nick is in favor of autonomous driving - "Would you rather drive for two hours or have a two-hour nap?"
Nick has a wall of old Macintosh computers and memorabilia in his and Haley's office. He especially likes his iBook G3 Clamshell.
Nick would not tell the author of this section any dislikes of his. What could they be?
External links