Moodle Resources
Moodle Resources
In Moodle professors may put up files or links to external websites that they want students to use in the course. Starting in the 2006 - 2007 school year course e-reserves will all be placed in the appropriate courses' Moodle sites. This documentation is intended to help those professors who wish to put additional resources on their Moodle site.
Adding Resources to your Moodle Site
Once you are logged into your Moodle class and turned editing on (see Moodle Basics for more information) select the "Add a resource" menu and choose "Link to a file or a website".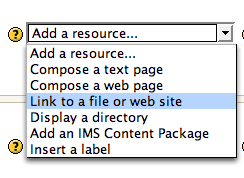 Doing so will take you to a new page in which you may provide a title and description for the file or website you are planning to link to. If you are linking to a website enter the URL in the box marked Location and then choose Save changes at the bottom.
If you wish to link to a file click the button that says Choose or upload a file.(note: this file can be any type you wish, doc, pdf, mp3, etc, however it cannot exceed 100mb in size).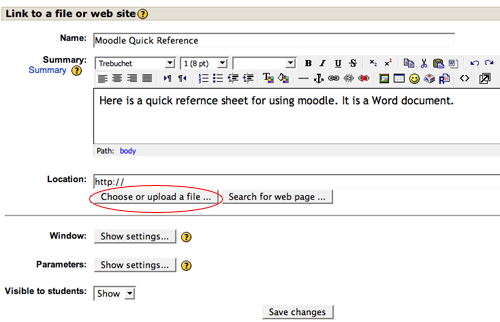 Once you have clicked Choose or upload a file a new window will open with a list of all the files currently uploaded to your Moodle course. If the file you wish to link to is there click choose if not click Upload a file.

If you clicked Upload a file a new window will open. In this window click browse to select the file you want to upload from your computer. once you have the file selected click Upload this file

You will then be taken back to the previous window, with the list of files, in which your newly chosen file should be found. Click on the Choose link associated with that file. This should take you back to the page where you named and gave a description of the resource.

Once you have your file chosen and you are back in the main resource editing site you should click Save changes at the bottom of the site. Your resource will new be available for students to use.