Moodle RSS
RSS Feeds in Moodle
Moodle has an easy way to add RSS feeds as blocks on your main Moodle Site. RSS, which stands for Really Simple Syndication, is used by many websites to send out headlines, summaries or even entire articles to subscribers. In this tutorial I will be using the RSS feed from Deutsche Welle as an example of an RSS feed. For more information on RSS feeds see Wikipedia's RSS Entry.
Adding an RSS feed to Moodle
Once you are logged into the course that you want to add an RSS feed to (see Moodle Basics for more info on this step) click turn editing on. On the right-hand site of the screen you will see Blocks with a drop-down menu that says add.... From this menu choose Remote RSS feeds.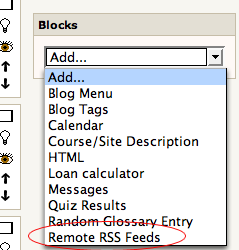 Doing this will create a new block above it titled Remote News Feeds click on the link within that box that says Click here to configure this block to display RSS feeds..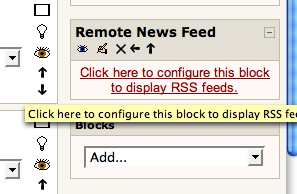 This will take you to a new page. Click on the tab at the top that says Manage all my feeds This will take you to a page that looks like this:

In the the box under Add a news feed URL: enter the URL of the RSS feed. If you have questions about how to find the RSS URL of a particular site call the Helpline at x6111. Once you have entered the URL click Add. If the URL was valid the name of the feed should then show up on that page like so: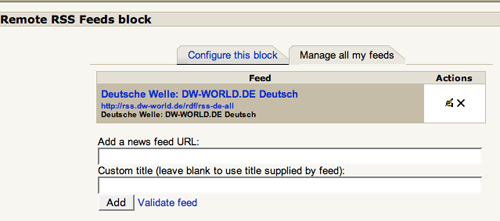 Now click on the tap for Configure this block and you will be taken back to that first page, only now you will see the name of your RSS site with a check-box next to it. Check that box. Configure other options as you see fit, then click Save changes.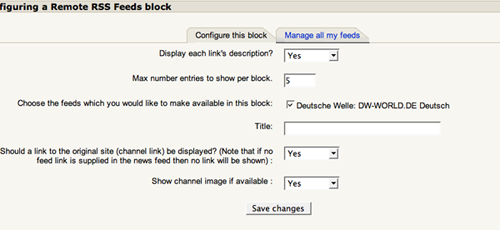 Now, when you are on the main page of your Moodle course the RSS feel will show up in a block on the right-hand side of your screen and will look something like this: