Moodle Quiz
Moodle Quiz
The Moodle quiz feature is great for creating simple quizzes for the students to take outside of class. The quiz feature is integrated with the Moodle gradebook system and most of the question types are automatically graded. Questions types include: calculated, description, essay, matching, embedded answer (cloze), multiple choice, short answer, numerical, random short-answer matching and true/false.
Creating a New Quiz
Once you are logged into your Moodle class and turned editing on (see Moodle Basics for more information) select the "Add an activity" menu and choose "Quiz".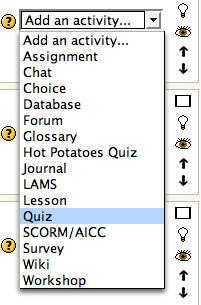 A new page will open in which you will name and describe the quiz. You can then choose your preferences among the many options below, such as assigning a time-limit to the quiz, shuffling the questions, allowing multiple tries, etc. If you have a question about any of the options click on the yellow question mark for a short explanation of that particular option.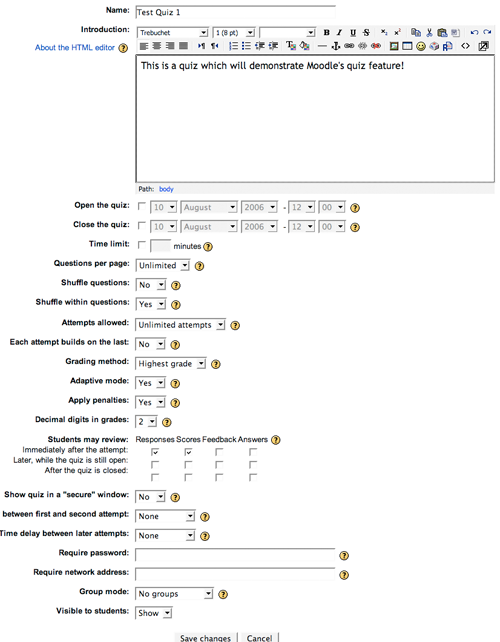 Once you have made your choices click save changes. You will then be taken to the page on which you may create and choose questions to populate your quiz. Any time you create a question it will show up on the list on the right, to add it to the current quiz click on the left-facing arrows next to the question.
To make a new question click on the drop-down menu titled Create a new question: Choose... from here you can decide what type of question you would like to create.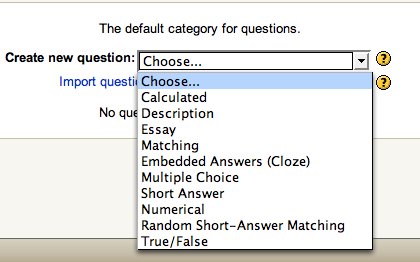 We recommend using the multiple choice, matching, true/false and short answer questions, as they are the easiest to set-up and grade. If you wish to do an essay test, I recommend using the Moodle Assignment feature and have the students submit Word documents electronically.