Moodle Gradebook
Moodle Gradebook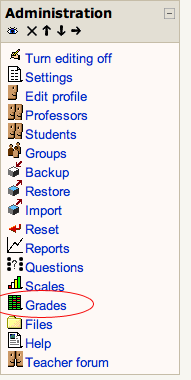 The Moodle Gradebook allows you to organize the grades for your course completely within Moodle. With the grade book you may choose grade weights, assignment categories, letter-grade assignment, grade reporting, integration of both online and offline graded assignments and even export the whole gradebook to a Excel document. With the Moodle gradebook students are able to stay apprised of how they are doing in the class, but may not see the grades of other students.
The specific set-up of the options available in the gradebook can vary greatly depending on the nature of the course or preference of the professor. Currently this documentation site only provides you with a general over-view as well as a selection of gradebook screen-caps to help you understand what is possible with this Moodle feature.
Additional wiki pages on specific Gradebook topics are added frequently. Please check back for updates. Current wiki articles include information about adding moodle partial points (.25, .5, .75).