Moodle Forum
Guide to Moodle Forum Creation & Use
Creating a Forum
To create a forum for your class follow these easy steps.
First log into Moodle, enter the class you which to edit and turn editing on. (For more information on these steps see Moodle Basics
Once editing is on you should be able to select "Forum" from the "Add an activity" drop-down box. This should open a page that allows you to create and edit the new Forum.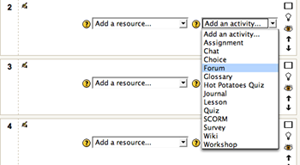 On this screen (see image to the right) you should name your forum and provide a small description of what you expect from the students in this particular forum. Remember, this is the description for the whole forum, specific discussion topics will be added later.
Below the description box are some settings choices, which let you decide what kind of posting you want to allow on your forum. Since these are very individual choices you should decide the settings based on your own needs. If you are unsure of something leave it as the default initially, you can always go back and edit your preferences later.
Once you are done click "Save Changes" at the bottom of the page. The browser should then take you to your forum. Since there are no discussion topics yet it will look pretty empty. You can create a discussion topic (perhaps an intro to the forum) or you can end your session, your forum will remain intact as it is. If you want to go back and edit the preferences from the previous screen at any time just click the button in the upper right called "Update this Forum".
Also in the top right corner are the options: "Force everyone to be subscribed", "Show/edit current subscribers" and "Subscribe to this Forum". If you force everyone to subscribe to the forum, all participants in the course will receive an email when someone posts to the forum. If you click on "Show/edit current subscribers" you will see a list of those who have subscribed (requested to receive email) to this forum. If you "Subscribe to this forum" you will be sent email every time someone posts to the forum. (Subscription preferences can also be set/modified by clicking the "Update this Forum" button in the upper right corner.) Participants do not need to be subscribed to a forum in order to start a discussion topic.
Creating and Using a Discussion Topic
When you want to create a discussion topic simply go to your forum and select "Create a Discussion Topic". A screen will appear which will let you enter the name of the topic and then enter the topic itself in the larger text box.
If you want to add a file, such as a picture, to the topic upload it using the "attachment" box at the bottom of the page. If you upload a picture this way the picture will show up after the text within the discussion topic post.
When you are done click "save changes", a page will pop-up which says "Post was Updated. (Continue)" Just wait about 10sec and the forum will appear with your new discussion posted and open. If you are unhappy with the way it looks you may choose to edit it by clicking on the "edit" link. The post may also be deleted or replied to at this point.
To reply to a discussion topic simply click "reply" in the topic's box. You may also reply directly to other people's replies by clicking on the "reply" link within the specific reply.
Now that you have begun a discussion, in the main page of your forum you will be able to see a list of the discussions, who they were begun by, and how many replies they have had.
Trouble Shooting
If you have any questions about parts of the forum creation there is a built in help tool, if you have question about a specific item just click on the little question mark icon that appears next to most items. If you are having a problem that you cannot fix with these little buttons please feel free to e-mail us at moodle@gac.edu.