Moodle File Management
Moodle File Management
Uploading Files
Once you've logged into Moodle and clicked on a class link (see Moodle Basics for help), you can then begin customizing your course by adding files, such as Word documents, PowerPoint presentations, pdfs, etc. as online resources. To upload or manage files, click on the Files link in the Administration Panel located in the lower left corner of the page (see below).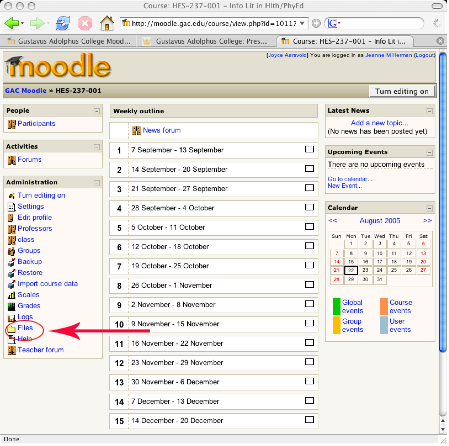 To upload a file, click on the Upload a file button and click the Browse… button to browse to the location of the file that you wish to upload. (This can be your local hard drive or any mounted remote drive, such as your Home Directory.) Select the file and click Open and the file will be uploaded to the Moodle server.
Managing Files and Folders
If you wish to create specific folders on the Moodle server to file your resources in, click on the Make a folder button. Type in the name you wish to call your folder and click Create.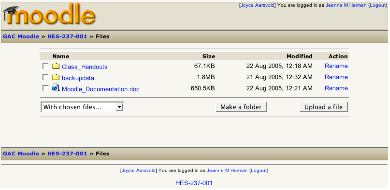 Linking to Files
Once you've uploaded your files to Moodle, they become available to you and your students as resources for the course. You can then use them in a number of different ways. You can add them to specific weeks of your class by clicking on the Turn editing on button in the upper right corner of your course window. Then go to the week of your choice (the weeks are numbered on the left) clink on the "Add a resource..." menu and choose "Link to a file or web site".

Once you have chosen this, a new page will open. In this page you need to create a title for your file link, and provide a short description of the file. Once you have done so, click on the "Choose or upload a file" button (see below), find the desired file in your file manager and select "choose file". Once you have done this you may hit "Save changes" at the bottom of the page. The file will now show up in the main class page under its designated week.