Moodle Chat
Moodle Chat Sessions are an easy way to encourage real-time conversations between students outside of class. Students can chat as an entire class or be put into smaller groups. Chats are time-stamped and automatically recorded so that instructors need not be present at the time of the chat in order to read the entire content of the discussion. Note: If you would prefer a discussion which does not require a specific meeting time see the Moodle Forum section of this wiki.
Setting up a Chat Session
Once you are logged into your Moodle class and turned editing on (see Moodle Basics for more information) select the "Add an activity" menu an choose "Chat".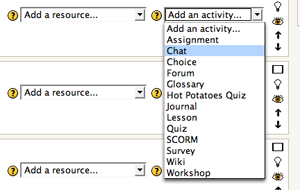 A new page will open (see image below), in which you need to enter your preferences for this chat session. Make sure to name the chat and fill out the summary with instructions for the students. Next, you must all make sure to choose the date and time for the chat should take place under next chat time. Remember: the chat feature offers real-time discussion, so students must all be present in the chat at the same time. The next 4 options (Repeat sessions, Save past sessions, Everyone can view past sessions, and Group mode) are all options which can be changed to suit your own preferences. If you wish to use Group mode, you must pre-populate the group lists before you can assign that group to a chat session. For information on creating groups please see Moodle Groups.
The last option, Visible to students, should be set to Show if you wish for your students to be able to participate in the chat. If you have used groups, only those in the group will be able to view their chat session. As the instructor, however, you will be able to see all the chat sessions. Once you are finished here, click save changes.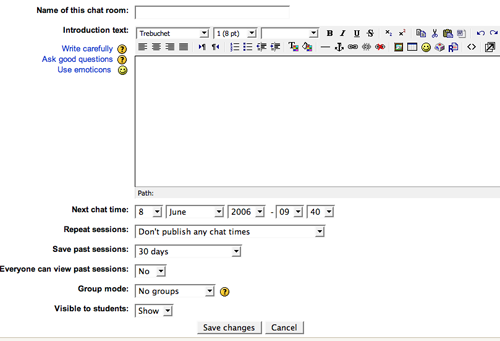 Once you have saved changes, Moodle will bring you to the opening page of the chat. From this point you may enter the chat rooms, view past chat sessions, and edit the chat options by clicking on the appropriate link.