Moodle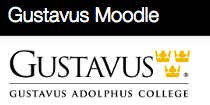 Moodle is an open-source online course management system. Gustavus maintains its own Moodle server, on which pages are automatically created for all Gustavus courses each term and are available for use by faculty, staff and students. Gustavus' Moodle site is located at http://moodle.gac.edu
Documentation
Moodle is our Learning Management System here at Gustavus. Moodle can be used to share files and links with students; can be used to quiz students online; can share grades for the course with students; and can be a powerful tool to use in a blended learning environment.
There are links below to the Moodle.org website that has the most current documentation:
FAQs
What's New with Moodle 3.9?
Moodle Dashboard - the new moodle home page takes you to your dashboard. The Dashboard is the most efficient way to display courses, activities and deadlines. The dashboard is also customizable.
New activity chooser and an option to star your favorite activities
HP5 creation - this allows you to create interactive elements in Moodle that can be graded
Safe exam browser - an option in moodle that allows you to control student access during a quiz attempt
Discussion Forums - discussion forums can now be graded and starred; due dates are added to the calendar; you can run a summary report showing you how all students participated in discussions; you can reply privately to the student; and no need to set discussions to No groups to allow students to post a discussion
Word files will now convert to a PDF to view when grading assignments
New quiz question type - allow students to record audio for up to 30 seconds
Grade functionality is easier to use with all features visible on the grading page
Upload max has been increased to 100MB
How do I copy my Fall 2020 course into my Fall 2021 course?
Navigate to Moodle to the course you want to copy the content into (Fall 2021 course)
Click the blue gear in the upper right corner of your course
Click Import
Find the course in the listing of courses that you want to copy the content from and click Continue
If you want all the content copied over, click Jump to final Step
If you want to pick what to copy over, click next and walk through the steps selecting what you want copied (check options you want copied over)
It will copy the items over. Click Continue when complete
Make sure it looks and behaves as it should
How do I copy a course from the archive server (before Fall 2020) to my current course?
Navigate to the archive server (http://moodle-archive.gac.edu/) and find your course.
On the left gray menu, under Course Administration, click Backup.
If you want all the content copied, click Jump to final step. Note: if you are unsure, copy all the content. It is easy to delete content that you don't want.
If you want to select the content to be copied, click Next. Select the content you want by checking the box. Keep in mind that you must select the category (folder, if used) to select any items in the category. Click Next, verify, and click Perform backup.
A message will appear saying the backup file was successful. Click Continue. Note: If you get any type of error message, please contact the GTS helpline.
You should see the backup file under Course Backup area or the User private backup area. Verify it is the correct backup by looking at the time.
Click Download to the right of the backup.
Navigate to Moodle (https://moodle.gac.edu/) and open your course you want to copy the content into.
In the upper right, click the gear icon. Click Restore.
Drag the backup file (will end in MBZ) into the Import a backup file box
Click Restore. A screen will appear showing the content it will copy into this course. If correct, click Continue. If not, cancel.
Under Restore to this course, select Merge if you have content already in this course that you want to keep or the Delete option if you want to delete any content that is currently there. Click Continue.
Follow the prompts and click Next to continue. Click Perform restore.
A message will appear saying the restore was successful. Click Continue. Note: If you get any type of error message, please contact the GTS helpline.
The content is now copied over. Please test everything to make sure it still works.
If you have any questions or issues, please contact the GTS helpline to help with this process.
Grades are not adding up - it is giving my student more than 100% on an assignment
Go to the assignment and make sure that the points they entered for that gradable item match the maximum points for that grade item.
Instructional Videos
Please visit our YouTube playlist for the basics on how to get started with Moodle 3.9 at Gustavus. https://www.youtube.com/playlist?list=PLRBcJAOS10LNqvcurRa8Qm3iUJloKDjvx
External links