Moodle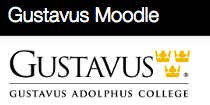 Moodle is an open-source online course management system. Gustavus maintains its own Moodle server, on which pages are automatically created for all Gustavus courses each term and are available for use by faculty, staff and students. Gustavus' Moodle site is located at http://moodle.gustavus.edu
Documentation
Moodle is our Learning Management System here at Gustavus. Moodle can be used to share files and links with students; can be used to quiz students online; can share grades for the course with students; and can be a powerful tool to use in a blended learning environment.
There are links below to the Moodle.org website that has the most current documentation:
FAQs
What's New with Moodle 4.0?
Navigate to https://docs.moodle.org/400/en/New_features to see a full list of new features. To watch a video on these updates, please navigate to https://youtu.be/awZ9qgKjhgU
Edit Mode - this easy to find option is a simple click to begin editing your course.
Simplified Navigation and My Courses - the new moodle has a menu on the top with the places you want to navigate to most: Home, Dashboard, and My Courses. Once you open a course, this navigation has your course settings, participants, grades, Reports, plus more. The left hamburger menu opens all the weeks/topics in your course making it easier to search.
Course Index (Expandable and Collapsible Weeks/Navigation) - all weeks/topics in Moodle can expand to show all the content or it can be collapsed to hide it. This saves scrolling time for users.
Expandable and Collapsible Blocks - blocks are a great way of sharing other tidbits of information in your course (links, office hours, instructor info, etc) but they take up course room having them on the right. Moodle 4.0 offers users the option to collapse/expand these blocks giving them more screen space for their course content.
Timed Assignments - instructors can set a time limit on assignments.
Drag and Drop - move items from left course index anywhere in your course. This is much improved over past versions of Moodle!
Grade to Pass Completion - instructors can set a passing grade in order for an activity to be marked as completed.
New Activity Icons - updated icons on all the Moodle activities and resources
Content Update - instructors can check a box to notify students of content changes in the course
Moodle Mobile App - sends notifications on upcoming deadlines
Moodle Dashboard - the improved Moodle home page takes you to your dashboard. The Dashboard is the most efficient way to display courses, timelines/deadlines, calendars and helpful links. The dashboard is also customizable.
How do I copy my Fall 2021 course into my Fall 2022 course?
Note: Instructors can do this if the old course is not bigger than 100MB. If you run into issues, please contact the GTS Helpline at 507-933-6111 or helpline@gustavus.edu. To watch a video on this process, please navigate to https://youtu.be/-gY-FF8ltPg
Navigate to the Moodle archive server at https://moodle-archive.gac.edu/ and open the old course (Fall 2021) you want to copy over.
Click the blue gear in the upper right and select backup.
Follow the prompts to select the content you want to copy over. If you want all the content, click Jump to Final Step.
When completed, Moodle will display that the backup file was successfully created. Click Continue.
Under User private backup area, find the file you backed up (should be on top with the date). Click Download.
Navigate to the current Moodle to the course you want to copy the content into (Fall 2022 course)
On the top banner, click More and select Course Reuse.
In the drop-down menu on the left, select Click Restore.
Drag the downloaded file into the box below Import a backup file. Once uploaded, click Restore.
The screen will display all the content it will copy over. Click Continue.
Under Restore into this course, select Merge the backup course into this course and click Continue.
Keep clicking Next as it displays the content it will copy over. This may be several screens.
Once you get to the option to Perform Restore, click that button.
It will copy the items over. Click Continue when completed.
Make sure it looks and behaves as it should
Grades are not adding up - it is giving my student more than 100% on an assignment
Go to the assignment and make sure that the points they entered for that gradable item match the maximum points for that grade item.
Instructional Videos
Please visit our YouTube playlist for the basics on how to get started with Moodle 4.0 at Gustavus. https://youtube.com/playlist?list=PLRBcJAOS10LNq2nxLdXqMPCaPzbmmxYow
External links