InterviewStream
InterviewStream is a website that can help improve interview skills. In order to use this website you must have a Mac or PC computer with a webcam and microphone. This document covers only the technical aspects of the website. If you need further assistance visit the website: http://campus.interviewstream.com
Using
1. After choosing an interview activity you will be prompted to setup your camera and microphone.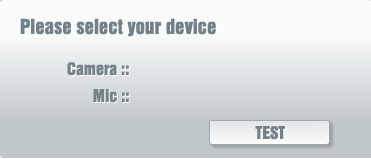 2. If you see the screen depicted above skip to step 5. Otherwise continue as follows.
3. You may have to choose your camera. For computers with built-in cameras use the USB Video Class Video option. If you have an external camera use either IIDC Firewire Video or DV Video. You will know if you have selected the right input because you should see a video of yourself on the following screens.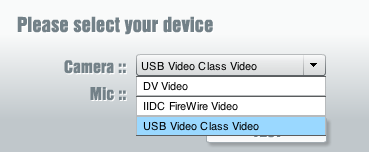 4. Next choose your audio device. Most Macintosh computers will use Built-in Microphone.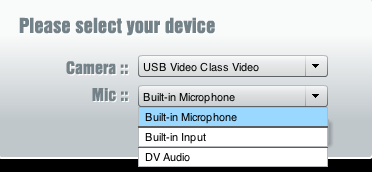 5. Now it's time to test your computer setup. Click the test button. The website will prompt you to allow it to access your camera and microphone. Click Allow.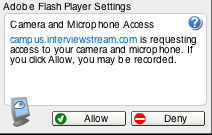 6. A motion indicator will appear on screen. Just move around in front of your camera. If you don't see your video on screen ensure you camera is plugged in or go back to step 3 and select a different camera input.

7. If video is working the web page will advance to test your audio input. Speak clearly and adjust the volume until the Continue button lights up. If you don't see any audio being indicated check to make sure your microphone is plugged in or go back to step 4 and select a different microphone input.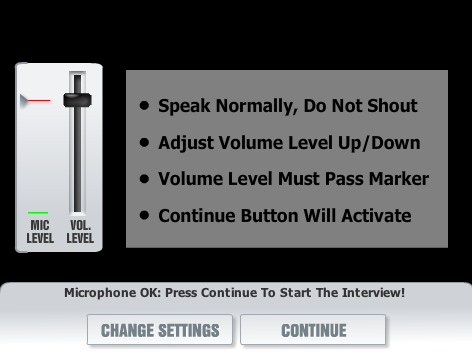 If your setup is working you will be able to proceed to the training activities. If you have any questions on this please contact the Gustavus Career Center.