Idea Channel
The brainchild of Peter Shea, the Idea Channel is an Internet webcast dedicated to expanding viewers' horizons primarily through recorded interviews. The channel is broadcast over Internet2 to reach its viewers.
Viewing The Idea Channel
There are two ways to watch The Idea Channel, using a program called [VLC Media Player] or through the Gustavus IPTV site.
Windows
Using VLC Player
Download and run the Windows VLC Player from the [Video LAN downloads page].
Ensure the 'Mozilla plugin' box is checked if you want to view the channel through the IPTV method.

After the installation is complete, open VLC Media Player.
On the file menu, select 'View' and click 'Playlist'. A new window will appear.

Navigate to 'Manage' > 'Services Discovery' and select 'SAP Announcements'.
Session Announcements (SAP) will appear in the playlist window.
Press the '+' to expand the channel listing. The Idea channel is found in a folder labeled "Experimental" (It may take a moment to load the announcements).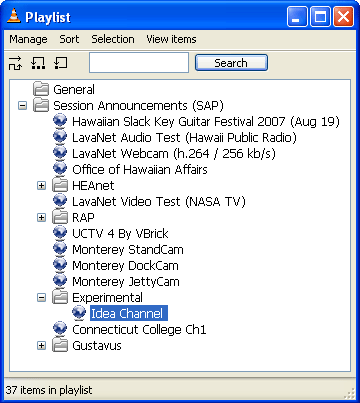 Using Gustavus IPTV
Mac OS X
Using VLC Player
Download and run the Mac OS X VLC Player from the [Video LAN downloads page]
Download the .dmg file, open it, and copy VLC to your hard drive (for instance to the Applications folder). Open VLC by double-clicking on it.
Navigate to 'File' > 'Services Discovery' > 'SAP Announcements'.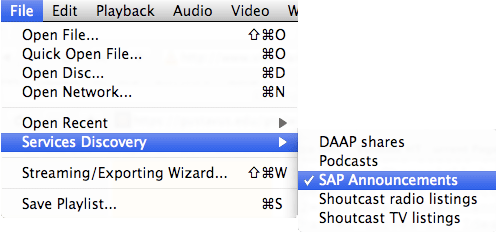 If you do not see a VLC window, go to 'Window' on the file menu and ensure 'Controller' and 'Playlist' are selected.
Note that Internet2 is only available through an ethernet connection at Gustavus. GACWireless cannot be used to view IPTV at this time.
By clicking on the triangles, navigate to 'Session Announcements (SAP)' > 'Experimental' and double click the Idea Channel.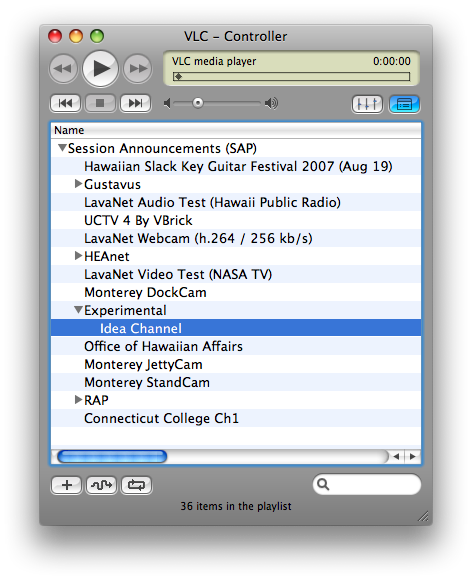 Using Gustavus IPTV
Download the web browser plugin from the [VLC download] website (found by scrolling to the bottom of the page).

Make sure you get the correct plugin. The Intel plugin is for Intel-based Macs (2006 and later) and the PowerPC plugin supports Apple's other models (2005 and earlier).

Open the file and follow the on-screen instructions.
Go to the Gustavus [IPTV website] and select the [Internet2 Channels] button.
Select [Idea Channel (Lives and Ideas)] to open the Idea Channel in your browser window.
Troubleshooting
Helpful Tips
If nothing is showing up in the SAP Announcements, be aware that it can take a few moments for the information to refresh.
The VLC web browser plugin works best with the Mozilla Firefox Internet browser.
Further Help
If you are experiencing difficulties with any of these instructions, please feel free to contact Gustavus Technology Services.
Comments and questions about the Idea Channel can be directed to Peter Shea.