Ichat

iChat is the Instant Messaging program which comes with Mac OS X. iChat is capable of text, audio and video chatting. People with AIM screen names may use iChat just as they would use the AOL client. Also, if you have a google chat account, it can be used with iChat, as well as Mac to Mac chat.
Getting started
The first time you open up iChat you will need to follow the step-by-step set-up procedure for setting up your iChat client. If you already have an account with any of the above mentioned chat softwares. If you do not have a screen name, you will need to first create one.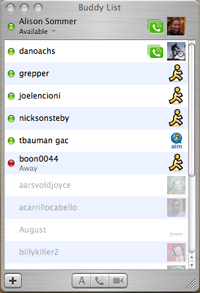 Buddy Lists
In iChat, your contacts show up in your Buddy List (pictured right). To begin a text-based conversation simply double click on a buddy's name and a window will open in which you can type messages. To add a buddy to you list click on the + at the bottom of page, you may then either select somebody from your address book, or click "New Person" to add a completely new entry.
Audio Chat
For audio chat to work in iChat both you and the person you wish to talk with must be using iChat and have a microphone available on your computer. If your buddy is able to use audio chatting this icon will appear next to his/her name in your buddy list:

. Click on this icon and it will "call them", thereby initiating the voice chat. All new Macintosh laptops have microphones built-in.
Video Chat
To chat using video, you should attach your video camera first before opening the iChat program, or if you have a more recent Macintosh, they will have the webcams built-in. When opened program should automatically detect the camera. It is recommended that you use an Apple-recommended camera such as an iSight to ensure compatibility.