How to backup your data
While technology is improving every day, it does fail sometimes. Frequently backing up essential data is extremely important. Please see the instructions below for your operating system and backup method.
Windows
Where is my data?
On a windows machine data specific to each user is stored in the User Profile. Typically every user has their own profile. In the Windows XP operating system user profiles are stored in the C:\Documents and Settings directory. In the Windows 7 operating system, your profile data is located in the c:\users\username directory. Inside this directory are all the files specific to you, including your Desktop, Favorites, My Documents, My Pictures, and My Music.
Backing Up to Flash Drive, External Hard Drive, or DVD using Windows 7 Backup and Restore
Please see the Backup and Restore article
Macintosh - Backup
Where is My Data
On a Apple Macintosh computer running OS X data specific to each user is stored in their home directory. Typically every user has their own home directory that may be located by navigating to Macintosh HD / Users / username. Inside this directory are all the files specific to you, including Desktop, Documents, Movies, Music, Pictures and Library (a.k.a. settings).
Using a Hard Drive and Time Machine (Recommended)
Backing up with Time Machine is the easiest way to be able to backup and restore your Apple computer. To use Time Machine you must be running OS X 10.5 Leopard and have an extra blank hard drive - this can be internal or external to your computer. More information about Time Machine can be found at Apple's website If you need to be upgraded for Time Machine please contact Technology Services x6111.
Preparing Your Hard Drive
Connect your extra hard drive. It should show up on the desktop.
To gain the most performance you should format your hard drive with Disk Utility. Open Disk Utility by navigating to Macintosh HD / Applications / Utilites / Disk Utility

Select your extra hard drive in the left hand column. Make sure you select the correct one!
You may see two parts to your extra drive. Click the top most part.
Click the Erase tab on the right.
Volume format should be Mac OS Extended (Journaled).
Name the hard drive something that differentiates it as a backup drive such as Backup_Drive.
Click Erase.
After a few moments the process will complete. Quit Disk Utility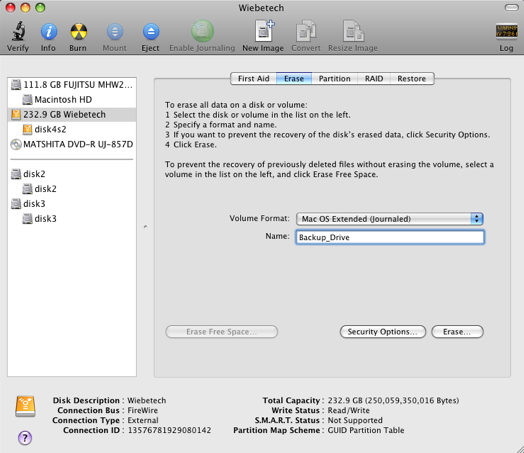 Enabling Time Machine and Backing Up
Navigate to Apple Menu / System Preferences / Time Machine.

Click Change Disk and select your newly formatted backup drive.
Click Options to exclude any folders. If your extra hard drive is large enough just backup the entire thing. This is most effective when recovered from a crash. Otherwise exclude folders you do not want.

Turn on Time Machine by clicking the On switch.
Backups will begin and be automatic as long as the hard drive is connected. You do not have to worry about scheduling. By default Time Machine will make incremental backups every hour, every week and every month. Let it do the math.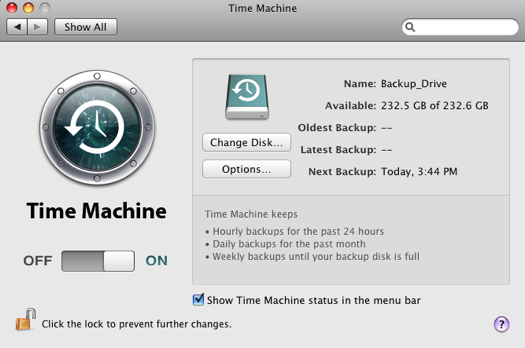 Restoring Files From a Time Machine Backup
Make sure you extra drive is connected and turned on.
Click the Time Machine icon in the dock or in Macintosh HD / Applications
Scroll through to the dates and times or choose a specific one on the right hand side of the Time Machine window.
Navigate to and click on the file you want to restore.
Click the Restore button.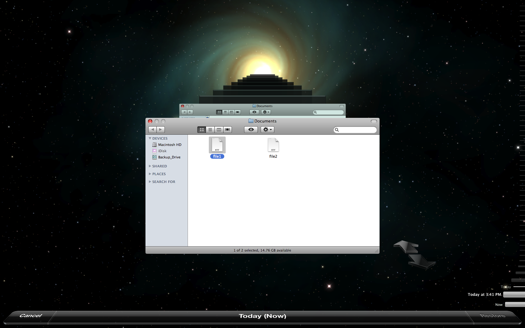 Backing up to CD/DVD with DMGConverter
If you just want to backup a smaller amount of files and do not have an external hard drive you can use a free program called DMGConverter. DMGConverter will enable you to burn on to CD or DVD fairly easily, but requires a few more steps than the Time Machine method. The DMGConverter method is a great way archive movie projects to media. Before beginning this process makes sure you have ample space to make a copy of your files on your computer. This will not work if you are already out of space!
Download and Install DMGConverter
Download DMG Converter from the manufacture's website.
After download completes double-click the downloaded .dmg file. It will mount on your desktop as an install disk on your desktop.
Double-click the install disk to open it and drag DMGConverter to Macintosh HD / Applications.
For quick access you can choose to drag this application to your dock.
Open and Set Default Settings
Double-click DMGConverter to open it.
Click the Preferences button.
Under the New Image tab make the Partitions be Single Partition - CD/DVD
If you are backing up to CD set the Segment Size to be 650 MB under the Segment tab.
If you are backing up to DVD set the Segment Size to be 4.2 GB under the Segment tab.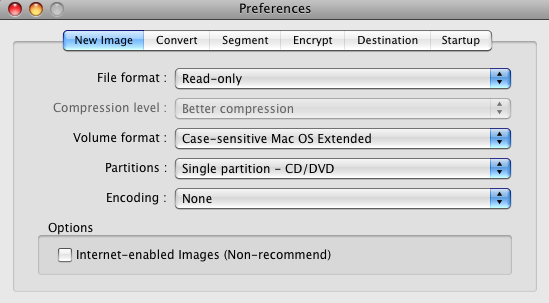 Initial Backup on Single Disk Image
Locate the files or folders you want to backup.
Make sure to click the New Image from Folder tab in the DMGConverter application.
Drag the folder you wish to backup on top of the DMGConverter window.
DMGConverter will create a compressed disk image file out of your folder in the location you choose. A disk image is basically a container to hold you data.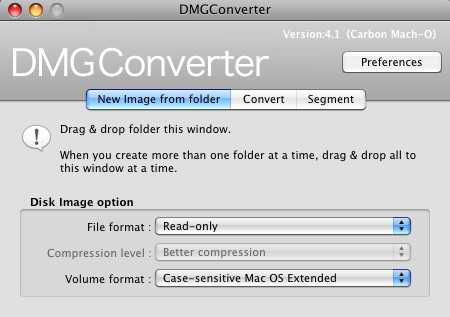 Segmenting the Disk Image to Fit on CD or DVD
If your initial backup is to big to fit on one CD or DVD it will need to be segmented. You can find out the size of your backup by clicking on it and navigating to File / Get Info.. The size will be displayed in MB or GB. Refer to the Open and Set Default Settings section to find out what size is right for you.
If you still need to segment the backup into smaller sizes, click the Segment tab at the top of the DMGConverter window.
Ensure the segment size is correct for the type of media you will be burning on (650 MB for CD or 4.2 GB for DVD).
Drag the disk image (.dmg) file that was created earlier onto the DMGConverter window.
The file will be split into segments.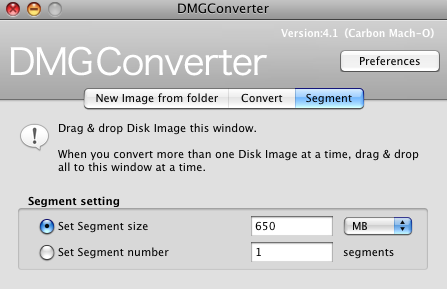 Burning
Insert a blank CD or DVD into the optical drive on your computer.
When prompted select Open Finder and click OK.
Drag a single disk image onto the CD or DVD.
Drag the CD or DVD to the trash (this will turn into the burn icon)
Provide a name when prompted and click Burn
Repeat this process for each segment you need to backup.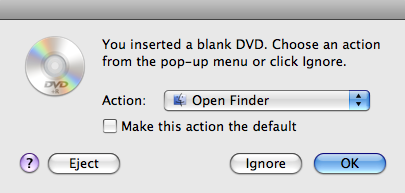 Restoring From a Backup
Insert each CD or DVD and copy the disk image file off off of it into the desired location.
Repeat with all CD's or DVD's until all the segmented parts are in one location.
Double-click the main .dmg file. This file will not end in the word part.
If all pieces are present and in the same location the disk image file will mount on the desktop like an extra hard drive.
To view the contents of a file double-click it to oopen it.
The disk image is read only so if you want to edit the file or files you will have to copy them to your desktop.