Find my iPhone
Apple's iOS software has an ability to Find your iPhone/iPad/Mac computer if you lose it.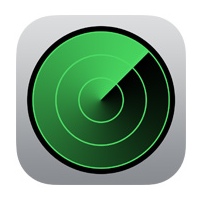 With iOS 7 installed on your iOS device and Find my iPhone turned on, anybody who finds your device is unable to factory reset your device and use it again without your iTunes password. Your phone is locked to your account. If you use a passcode or Touch ID, they are unable to access any data or use it at all. With Find my iPhone turned on, you will be able to see its location on a map.
How to turn Find my iPhone on?
Open your Settings app on your iOS device
Click the iCloud menu
Slide the switch to turn on Find My iPhone (at the bottom)
Once it is turned on, it will have the green color on the left and the circle on the right
How do I see where my iOS device is located on a map?
Go to iCloud.com and log in with your iTunes username and password. Then click on the Find my iPhone icon.
You can also download the Find my iPhone app on your iOS devices and view where your other iOS devices are located.
What devices will show up on this list?
Any Mac computers that you turn on Find my Mac.
Any iPads that you turn on Find my iPad.
Any iPhones that you turn on Find my iPhone.
Selling or giving away the device?
Make sure to turn off find my iPhone/iPad/Mac before selling or giving it away. To turn it off, go to Settings menu, iCloud menu, and toggle the Find my iPhone/Mac button.
Also make sure to factory erase it. On the iPhone or iPad, go the settings menu, go to general menu, click reset, click erase all content and settings. This will prompt you to type in your Apple ID password (for security reasons) to complete the erase.
I see old devices of mine on this list, how do I remove them?
Find your device and turn off the Find my iPhone setting. Or you can click on the device when it is offline and click Remove access for this device.