Double-click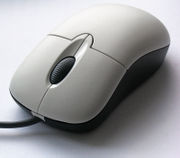 A Double-click is the act of pressing a computer button twice quickly without moving the mouse. Double-clicking can be found on all computers on campus. A double click is most often employed to open the selected item whereas a single click is used to select items, follow hyperlinks, and activate buttons (such as submitting a form).
On mice with two or more buttons, double clicking is usually done only with the primary (left) mouse button.
How to Double-click
To double-click, press the computer mouse button twice in quick succession.
If you are having problems double-clicking, it is possible to adjust the speed. Adjusting double-click settings can be done by:
Windows XP - Start > Control Panel > Mouse > Buttons (Start > Control Panel > Printers & Other Hardware > Mouse > Buttons if Control Panel is in Category view)
Mac OS X - Applications > System Preferences > Keyboard & Mouse > Mouse