Digital Arts lab
Located in Beck Hall, room 112, the Digital Arts lab is equipped with programs for photography and video art.
Equipment
Computers
Equipped with 16 Apple iMac computers, this lab has video and photo editing software including Final Cut Pro, Photoshop, Dreamweaver, InDesign, Illustrator, and more.
Accessories
Each station is equipped with a Wacom Intuos Pro tablet.
Printers
This lab is equipped with 1 HP LaserJet 5500 printer and 2 Epson Stylus Pro 4900 printers.
Printing
This lab uses Papercut. Print jobs must be released from http://print.gac.edu
Loading paper
HP LaserJet 5500
This printer can use either 8x11 or 11x17 regular printer paper. Paper is supplied by GTS.
Epson Stylus Pro 4900
Remove tray and install glossy side down (side that will be printed on down).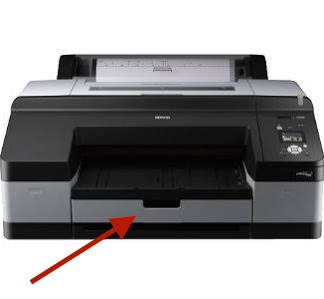 Replacing Ink Cartridges
HP LaserJet 5500
Epson 4900
Ink is provided and replaced by GTS. Ink is replaced when the ink level display shows that the ink cartridge has a blinking alert. To replace the ink cartridges, please call GTS to have these replaced. To replace them, the cartridges just need to be pushed in and then pulled out to remove them. To insert them, just line it up and push in. Here is a video on the process: https://www.youtube.com/watch?v=H5uLiyjWMOo
Printer settings
If you are using professional grade paper, please choose Super A3 (13x19 sheet) in the paper size settings before ultimately printing. This is the usual printer paper size for this printer.
Hours
To access this lab, students must be registered for a class that takes place in the Digital Arts Lab. Students in these classes have access to this lab from 7am-midnight Sunday-Thursday, and 7am-10pm Friday and Saturday.
See also