Apple Mail
Apple Mail (also known as Mail.app) is an e-mail client for Apple's OS X operating system.
GusMail users
Please see our Google Mail web page for instructions on setting up GusMail on Apple Mail.
Setting up Mail on a Macintosh Computer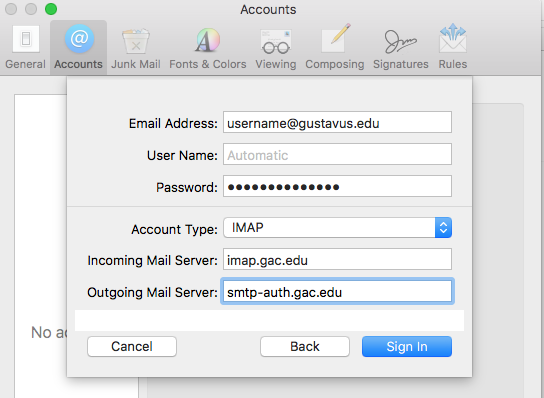 These directions are for Gustavus email users using the Apple Mail application.
Launch Mail. An add account wizard may appear, if not, click the Mail Menu and select Preferences. On the Accounts tab, click the plus symbol at the bottom of the accounts list.
Select Other Mail Account...

When prompted enter the following information:

Name: Your Full Name
Email Address: username@gustavus.edu
Password: Your Gustavus email password
Account Type: IMAP
Incoming Mail Server: imap.gac.edu
Outgoing Mail Server: smtp-auth.gac.edu

Click the Sign In button
Editing an existing account (Gustavus E-mail Account)
You may need to change existing account settings if your password changes or if there are other changes to your information. Password changes will need to be made in the IMAP settings and SMTP settings.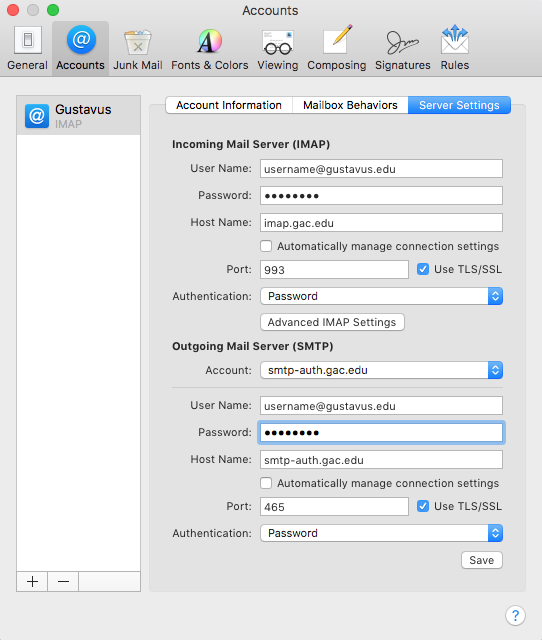 Launch the Mail app.
Verify that you don't have messages queued in your Outbox. These messages will need to be deleted before making changes to the account settings.
From the Mail menu, select Preferences.
On the Accounts tab, you can make changes to the incoming and outgoing password, as well as server settings.
Setting up Mail On iPhone
Read the full article.
Sending attachments
Windows computers may not receive your attachments correctly. To ensure everybody receives your e-mail attachments, you need to follow these steps.
Open up Apple Mail
From your menu bar, select Edit > Attachments.
Ensure that "Always send Windows friendly attachments" is selected.
Filtering
Apple uses the term Rules for filtering your mail.
Signatures
To manage your signatures, you need to bring up the signatures management dialog:
When you are in Mac Mail, click on Mail > Preferences.
Click on Signatures on the Preferences toolbar.
Creating
To create a new signature, click the (+) in the signatures management dialog.
In order to access your new signature from the drop-down menu when creating a new message, click on the new signature and drag it to any accounts you want to be able to use it. In most cases, you will click and drag it to IMAP account.
Editing
To edit an existing signature, select the signature you want to edit and change the text in the box to the right of it.
To edit the name of the signature, double-click Signature #1, etc, and rename it.
Subscribing to folders
All folders should be subscribed to automatically. If necessary, close Mail.app and open it up again.
Configuring Directory Services (LDAP)
OS X Yosemite
Launch the Contacts app
Go to the Contacts menu, and then click Add Account
Choose Other contacts account...
Choose LDAP in the drop down menu.
Fill in the following settings:
Known Problems
Deleted messages reappear
There is a known issue with the way Mac Mail handles IMAP accounts. Whenever there is any type of mail server troubles or hiccups, messages come back to your Inbox. There is nothing we/you can do to prevent this. Your only option would be to switch e-mail clients, such as Mozilla Thunderbird.
Attachments don't show up properly
Sometimes if attachment don't show up properly in Mac Mail, but they show up fine on a different Mac Mail installed on a home computer, try rebuilding the inbox by going to the mailbox menu and then click rebuild.
Contact us
Please contact the Technology Helpline at 507-933-6111, stop by the Technology Services department in Olin Hall or complete our contact form.