Watercolor Trees: Watercolor Painting Workshop
with Gail Speckmann '73
When
Sunday, April 19, 1:00-5:00 p.m.
Monday, April 20, 5:00-9:00 p.m.
Exhibit Opening: Tuesday, April 21, 7:00 p.m., Melva Lind Interpretive Center.
The painting of trees can be as beautifully simplified or gorgeously complex as the artist is inspired to create. In this workshop, you explore options in your desired approach to
painting trees.  All levels of skill are welcome. Individual and group instructions will be provided along with painting demonstrations.
Trees can be tremendous teachers for us in opening up our understanding of wonderful composition.  We will explore focusing on individual trees (understanding their form and angles, foliage, texture), groupings of trees (their rhythms, relationships, and depth), and trees within the larger landscape (how to use them creatively to improve composition).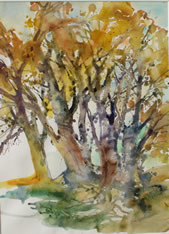 We will approach these two days as true exploration, coming with an open heart and mind to learn. One is often surprised by the beautiful results that come from releasing the expectation of a particular end result in favor of enjoying the journey along the way. Gail always seeks to convey the joy of working with the fluidity of the paint and color.  
Gail Speckmann is a national award-winning watercolor artist, instructor, and judge from Plymouth, MN. She has a B.A. in Fine Art from Gustavus Adolphus College.  Her book Wet-into-Wet Watercolor, a Watson-Guptill Pub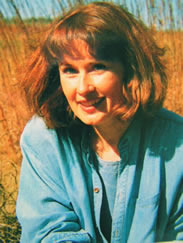 lication, is considered one of the most definitive instructions in this technique. Gail has had particular success in helping her students  loosen up and enjoy the painting experience.  Listed in Who's Who in America, her classes have been conducted in the U.S. and Canada, and has led seven European tours. Gail is also a published poet and lyricist.  Her most recent one-person show combined her paintings with her poetry.  She has a great interest in the relationship between the various art forms.
For more information contact Shirley Mellema at 507-933-6181 or arboretum@gustavus.edu. Cost is $50 ($40 for FLA members). Before attending, please check our list of suggested supplies.